Nissan Vehicles in Woodbridge, Ontario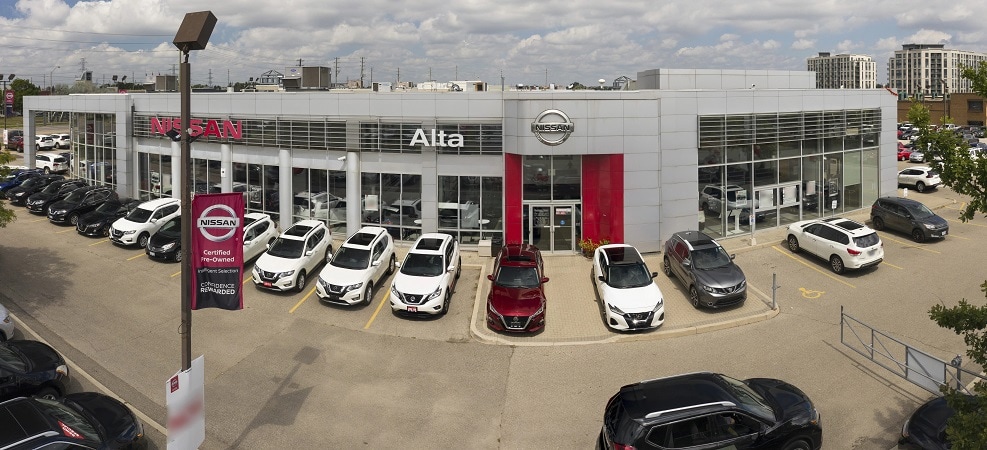 Nissan Vehicles in Woodbridge, Ontario
Alta Nissan Woodbridge in Ontario has built a well-earned reputation for providing customers with quality service. We are known as the Nissan dealer in Woodbridge, Ontario, and have understood how different Nissan models operate in the motor vehicle industry.
Our dedication and commitment to our customers are why many customers choose to buy here and have made us one of the top go-to Nissan dealerships serving Ontarians and the residents of Brampton, Toronto, Mississauga, Vaughan and Etobicoke cities.
Alta Nissan Woodbridge has also been part of the Zanchin Auto Group Network that has been in practice for the last four decades. The Zanchin Auto Group has established itself as one of Canada's most reputable and successful automotive dealers, dealing in over fifteen vehicle brands across thirty different locations.
Here we provide a wide range of Nissans in our used and new Nissan inventory. Aside from car models, our dealership also offers various Nissan services and genuine Nissan parts, depending on your needs. There are several dealerships within the service area; however, Alta Nissan Woodbridge stands out among its completion. Here is why you should consider Alta Nissan Woodbridge over other dealerships.
The Benefits of Buying a Nissan Vehicle at Alta Nissan Woodbridge
Free Home Delivery Up to 75 km.
4.6 Google Rating .
 1-Season Free Winter Tire Storage.  
7 Day Return Policy or 500km on Pre-Owned  
Buying a car, either used or new, is a considerable investment. For this reason, our dealership strives to provide clients with exceptional services and access to original Nissan parts. One of the benefits of buying from us, you also get practically any Nissan part you need for your vehicle.
Our vast stock of new Nissan and used inventory packs the latest SUVs, Cargo Vans, Sedan and Hatchback models. Popular choices include the 2021 Nissan Rogue, Nissan Maxima Platinum Sedan and the Nissan Qashqai S SUV.
Contact Us
Contact us through our website or drive down to our dealership in Woodbridge, Ontario, for more information on our services. Our dealership is located at 7625 Martin Grove Road, Woodbridge.
You can reach out to us to schedule a servicing or test drive appointment. Customers from Brampton need to drive through the Bramalea Woods before heading directly to the dealership. Drivers from Etobicoke have to pass by Centennial to make their stop at the dealership, while those from Toronto need to go through Markham.
On the other hand, Vaughan customers can enjoy the scenery in the Boyd Conservation Park before meeting drivers from Mississauga at the Woodbridge Automall on Highway 7.
Hours
Monday

9:00AM - 8:00PM

Tuesday

9:00AM - 8:00PM

Wednesday

9:00AM - 8:00PM

Thursday

9:00AM - 8:00PM

Friday

9:00AM - 6:00PM

Saturday

9:00AM - 6:00PM

Sunday

Closed