Nissan Express Service in Woodbridge, ON

Nissan Express Service in Woodbridge, ON
At Alta Nissan Woodbridge, we know your time is precious and understand the importance of express vehicle service better than anyone. Whatever maintenance or service your vehicle needs to stay in top shape, we can help with our comprehensive Nissan Express Service program. In other words, our dealership is home to far more than a varied new inventory. Find out how we can tend to your Nissan quickly and efficiently below, and contact us in Woodbridge, Ontario to book your next appointment and see what Nissan Express Service is all about.
Express Multi-Point Inspection
Nissan Express Service begins with a complimentary multi-point inspection. Our technicians will conduct a thorough and meticulous examination of your vehicle's key components and systems before providing you with a report that will inform you if any part of your car needs attention.
Express Tire Replacement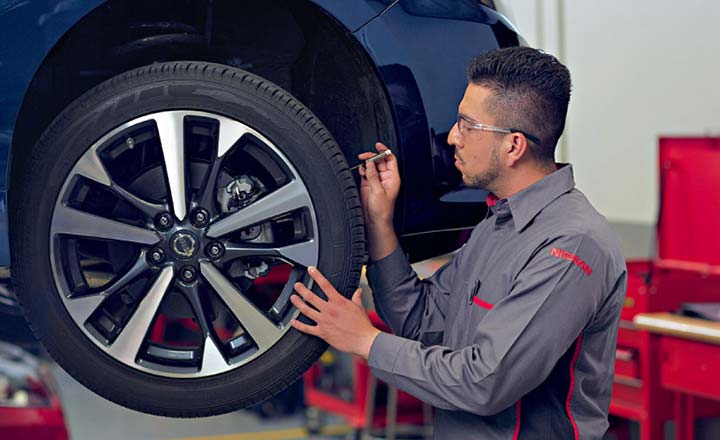 Changes in seasons are a great time to get your tires replaced, especially if you're coming off a rough winter. Since your winter tires are strictly designed for peak performance in extreme weather, we recommend booking an Express Tire Replacement with our Service Centre so you can fully enjoy the warmer weather with the right rubber.
Oil & Filter Change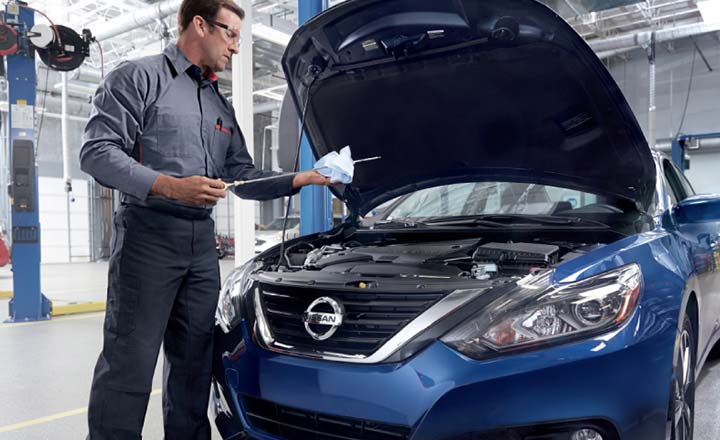 Your engine's health and performance depend greatly on its oil levels and its filter's cleanliness, as impurities can build up and damage your motor over time. Nissan Express Service can help you avoid such issues by checking your oil and swapping in a new filter if needed.
Express Tire Rotation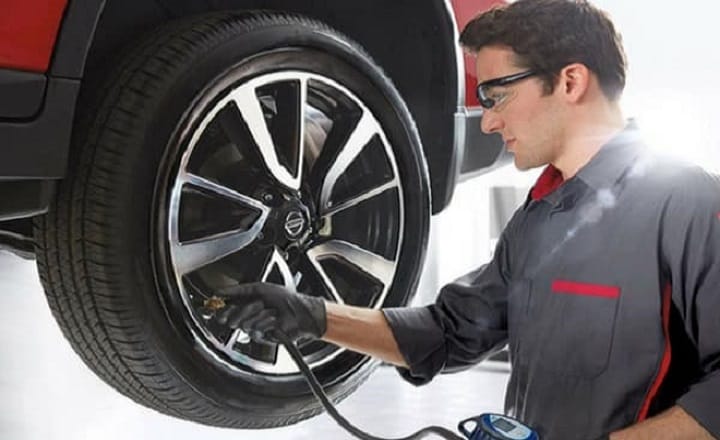 Tire rotation is of great importance you both your rubber and your car's overall performance. We'll gladly treat your tires to this service, which involves changing their position to maximize their lifespan and ensure that they wear out evenly.
Express Tire Repair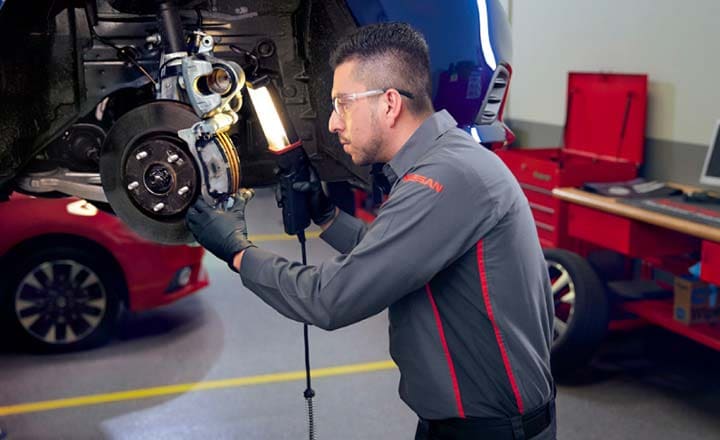 Rotation and replacement aren't all we can do with your tires. We can also carry out any repairs they might need to spare you the hassle and expense of buying a new set before it's time.
Express Cabin Filter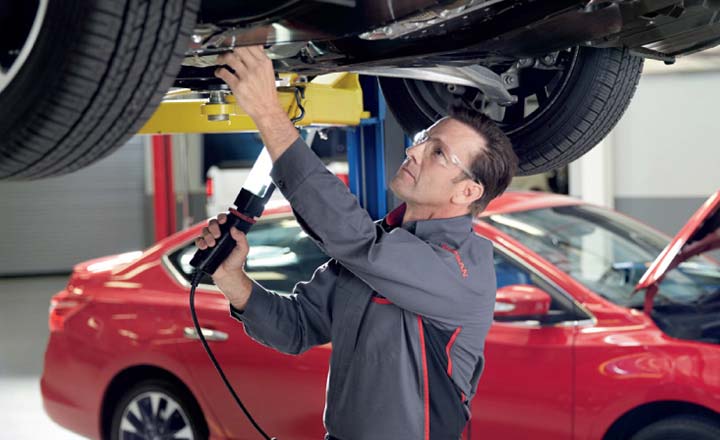 Your cabin's air quality depends greatly on its filter, and neglecting it can leave you with a tarnished airflow and unpleasant smells. Thanks to our certified technicians and comprehensive parts inventory, we'll treat your Nissan to a new cabin filter in no time.
Express Wiper Blades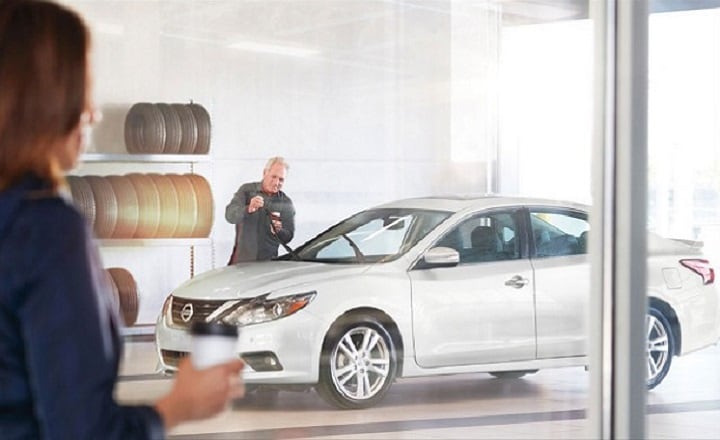 It's never a bad time to get your wiper blades inspected, and our grueling winters can often give them a lot of work. Once the weather improves and the time comes to service your car, we'll be sure to check your wipers and treat you to a new pair if needed.
Battery Replacement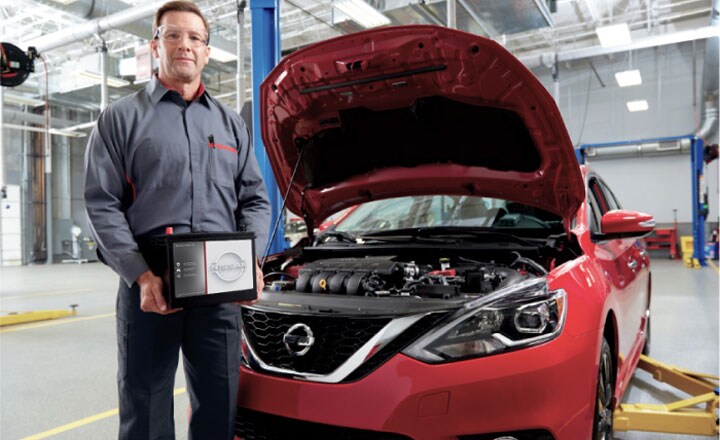 Extreme weather can leave your battery especially vulnerable, which is why we make a point to inspect it as part of our Nissan Express Service. As with your wipers, it's always best to have your battery looked at once spring arrives.
Express Bulb Replacement
Your Nissan's bulbs ensure that you'll see and be seen in a variety of conditions. If any one of them needs replacing, you can be sure our technicians will be on top of it.
Express Air Filter
Like your oil filter, your Nissan's air filter is designed to keep pesky contaminants and intruders from raising a fuss in your car's key components. Consider Alta Nissan Woodbridge your home for quick, efficient, and reliable filter changes.
FAQs
What Do We Do on a Nissan Service?
We'll treat your Nissan to a comprehensive inspection to determine which of its parts or systems need tending to, all while ensuring that everything else is working as it should. Once we've completed our examination, we'll conduct all the service and maintenance needed to keep your car in top shape, from bulb replacements to filter changes.
How Often Should You Service a Nissan?
Since every Nissan is built and designed differently, we recommend checking your owner's manual to find out how often you should book your car for service. You can't go wrong as long as you stick to the manual's suggested service intervals, but it's always wise to book a couple of appointments per year just to stay on the safe side.
How Often Does a Nissan Need an Oil Change?
This depends in part on your vehicle's recommended motor oil, and as with other services, your owner's manual can fill you in on the proper intervals. That said, we also suggest popping the hood about once a month to check your oil levels, and if you drive more often than most, a couple of oil changes a year should do the trick.
You can treat your dream vehicle to all these Nissan Express Services and more after completing your purchase through our dealership. If you've found your model of choice among our fleet and would like to start your purchase from home, our website's user-friendly financing application can help. We also welcome any trade-ins you're looking to sell, and we can always work its sales price into your new purchase to help lighten your financial load and save you more. Contact Alta Nissan Woodbridge at your convenience, and we'll be thrilled to serve you.