Car Dealership Reviews in Woodbridge, Ontario

Alta Nissan Woodbridge provides exceptional services to its customers. Having been in business for several years, we have mastered how Nissan cars operate.  Our Nissan dealership is proud to serve the Woodbridge, Ontario community and the surrounding areas of Vaughan, Brampton, Etobicoke, and Toronto.
Alta Nissan Woodbridge inventories a wide range of used and new Nissan vehicles, provides Nissan service when needed, and stocks genuine Nissan parts. You can
learn more about us
by visiting our online page.  A car is a significant investment. That's why it deserves the best servicing and original parts. Many companies offer different auto repair and replacement services. However, getting a trusted, authorized dealer can sometimes prove to be a challenge. The best way to go about this is by checking car dealership reviews in Woodbridge, Ontario.
Alta Nissan Online Dealership Reviews
Online reviews are one of the best ways of determining the performance of a dealership. Most customers usually leave feedback about their experience with a dealer. From the reviews, you will know the credibility of dealers, get to know our staff, and the type of services they offer.
Our Alta Nissan Woodbridge reviews online speak for themselves. One of our guests had searched for some Nissan parts from different places without success until he came to our Nissan dealership in Woodbridge, Ontario. Check out his review and the reviews of many other satisfied customers guests. You can read our reviews online and contact us for the same exceptional service.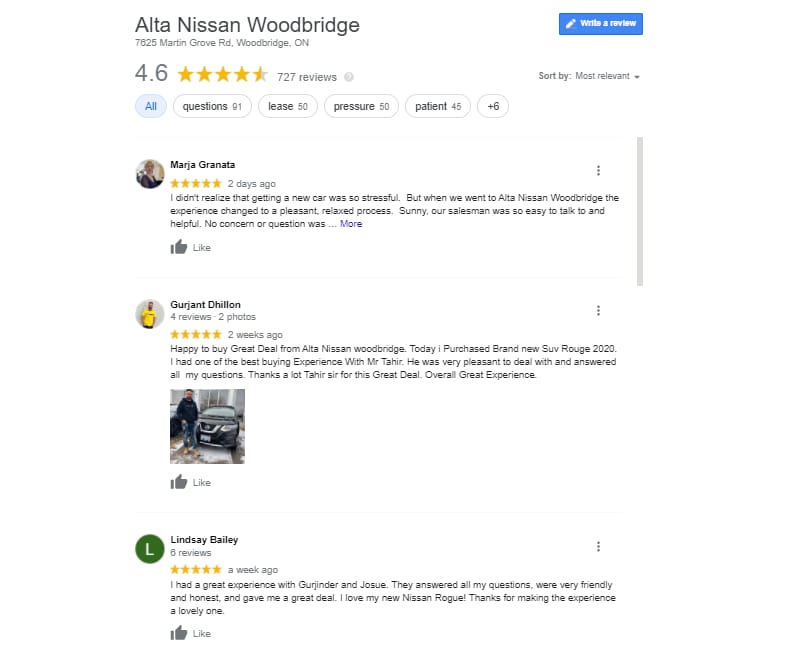 Excellent Customer Service
Customer service is the backbone of every company. One of the reasons why most customers keep coming back to Alta Nissan Woodbridge is how we communicate and serve our customers. We treat all our guests with high esteem. This is evident from the feedback we receive from our customers.
Alta Nissan Woodbridge understands how vital you are to our business and the services we offer.  And that is why we are dedicated to providing a superior customer service experience each and every time. Through our dedication, we have won the hearts of many automotive consumers in Woodbridge, Ontario, and surrounding communities.
Contact us to find out why we are the preferred Nissan dealership in Woodbridge, Ontario.
Let's Connect!
* Indicates a required field